Sea glass jewelry for ocean lovers
Sea glass jewelry for ocean lovers
Seaglass from the Pacific Northwest
I collect seaglass from Puget sound beaches. The waves at these beaches turn old glassware, discarded decades ago, into one-of-a-kind organic shapes. I make jewelry using these pieces, preserving their natural beauty and vibrant colors. I design each piece to be fun, versatile, and durable.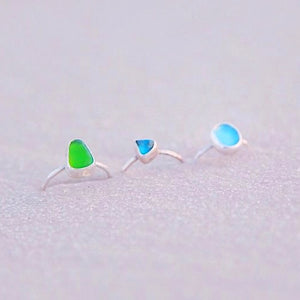 Traditional Crafstmanship
I never cut or polish any of the seaglass I use in my work. I build settings around their natural shapes using traditional silversmithing techniques. The result is both beautiful and durable - ready to go with you anywhere your adventures take you. 
Custom Orders
I have years of experience working with seaglass, and often work with clients directly to fabricate settings for specific pieces of seaglass. This is a perfect way to turn a memory into a piece of jewelry you can keep with you always. Please reach out with any questions regarding custom designs.